Welcome Joseph Yakabowskas!
"I waited patiently for the Lord; And He inclined to me, And heard my cry. He also brought me up out of a horrible pit, Out of the miry clay, And set my feet upon a rock, And established my steps. He has put a new song in my mouth— Praise to our God; Many will see it and fear, And will trust in the Lord."
—Psalm 40:1-3 NKJV
Please join us in welcoming Joe to the Covered Bridge team as our new intern! Joe came to Covered Bridge in November of 2020 to begin the process of healing and reconciliation. After living a life of continuous lies, Joe finally "let go and let God" to allow true healing. Joe is knowledgeable, passionate, and deeply cares for the men of Covered Bridge, as well as his calling to the great commission! Welcome aboard, Joe!

As I am now granted being an intern at Covered Bridge, I look back to my early walk with Jesus Christ. I did not know him as well as I do today, but my relationship with Christ is always growing. Many years ago, I was in the pit of destruction from alcohol and drugs. It was so bad that I thought the only way out was death. And in God's way it was the only way out — death to self and worldly passions. In my feeble cries of desperation and brokenness, I asked the Lord to kill me or save me. I praise God He chose the latter. God pulled me out of that pit and put me on solid ground/rock. Although I stumbled, I stayed the course of seeking God's will in my life through His Word and people. It has been, and will continue to be, an up and down journey. But today I am free — not only from alcohol and drugs but from much of my selfishness as well.

In service to others, I have found the true meaning of joy and peace. You see, when you focus on the needs of others, your own problems, needs, and issues lessen greatly. The truth of serving others was always in front of me, but the Lord put me to work to show me the joy of serving others. I now have joy in my heart and a song on my lips that praises the name of Jesus Christ, my Lord and Savior. Any questions about my experience with Jesus? Pull me aside and let's talk. I will tell everyone and anyone about what Jesus has done in my life. Praise my Lord and Savior!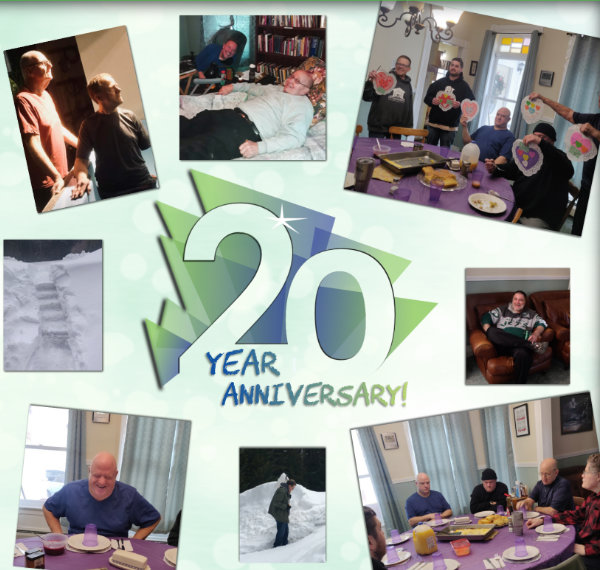 Today I rejoice that I live in the United States. With all of its sin and problems, God's hand of blessing is still on us. Our hearts are heavy for the people of Ukraine and for the Russians who are misguided and support the war. Covered Bridge has been exceedingly blessed to have connections to a group of Ukrainians and Russian people living in NH. They came to visit CB and UBC. We were blessed with their fellowship, music, and testimony of how they serve the living God, Jesus Christ. We will be partnering with the Ukrainian church to aid in their refugee resettlement efforts, and possibly open our homes to families displaced by this awful war.


We will be celebrating Covered Bridge's 20th anniversary at this year's friend raiser, prayer walk, BBQ, and games. Please save the date — June 11! The prayer walk starts at 10:00 and the BBQ at noon. After lunch, there will be a short update from the director and a testimony glorifying our Lord and Savior Jesus Christ.
If you are a supporter of CB, this is an excellent time to come and interact with other supporters, staff, residents, and board members. We are praying that it will be an encouraging time of fellowship and friend raising. We hope to see you there!!
And He said, "Go into the city to a certain man, and say to him, 'The Teacher says, "My time is at hand; I will keep the Passover at your house with My disciples."'"
MATTHEW
26:18
God bless!
Pastor David Piers, Director

Roger
I praise the Lord for the recovery progress so far from my stroke. Please pray for my continued recovery, that I may be able to continue reconciliation with my family, and possibly be well enough to join the mission trip to Alaska.

Rick
Please pray for God's continued protection around me as I heal from my foot surgery. I praise God for the support of Covered Bridge to bring me closer to Christ, and congratulations to brother Joe for his graduation!

Russ
Please pray for God's wisdom to be with me in leading my family. I praise God for my time at the Covered Bridge Ministry.